Margaret K. Troke Branch Library
Branch Librarian
Bill Walker
502 W. Ben Holt Dr
Stockton, CA 95207 Map
Upcoming Events
More....
About The Library
The Troke Branch Library offers:
A circulating collection of library materials (books, DVDs, CDs) in English, Spanish, Vietnamese, Chinese, Cambodian, Lao, and Khmer
Computer workstations for general and Internet use, printing, and free Wi-Fi service
Newspapers and magazines for your enjoyment
A reference collection
Self-service Xpress checkout machines
Copy machines

Margaret Klausner Troke (pronounced Troh'-kee) served as the Director of the Stockton-San Joaquin County Public Library from 1946 to 1974. She was a tireless advocate who fought often and successfully to improve and expand library services in the county and state. Among other things, she is credited with expanding the number of branch libraries and starting mobile library services. The Troke Branch Library was dedicated in her name on October 13, 1979.
Meet a Stockton author!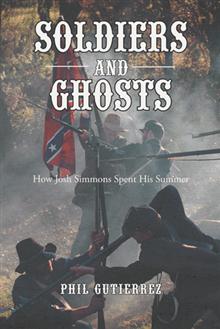 On Saturday, September 21, 2013, the Margaret K. Troke library is pleased to present local author Phil Gutierrez. Mr. Gutierrez will be talking about his experience writing his new book Soldiers and Ghosts: How Josh Simmons Spent his Summer. This is the story of the American Civil War told from ground level through the eyes of seventeen-year-old Josh Simmons, a Confederate infantryman. It narrates the experiences of young adolescents during one of the most dramatic and chaotic moments of that Wilderness Campaign of 1864.
Why would a a Vietnam veteran who served 15 years active duty and two decades in the inactive reserves, a military man who served with the 82nd Airborne Division in Dominican Republic and with the 101st ABN Div Air Assault as a commissioned officer, write a story about the Civil War? Join us on September 21 to learn more about the story behind the story.
At the end of the program the author will be available to autograph his book. Both paperback and hardback copies will be for sale.
This free program is provided through the generosity of the Friends of the Stockton Public Library. The Margaret Troke Branch Library is a part of the Stockton-San Joaquin County Public Library and is located at 502 W. Benjamin Holt Dr in Stockton. For more information, call 209-937-8221 or (866) 805-7323 (READ) (COUNTY). Visit the Library's website at http://ssjcpl.org/ and fan or follow us on twitter.com/ssjcpl and facebook.com/ssjcpl.


Toddler and Preschool Storytimes

Tuesdays at 10:15 a.m.





Homework Helpers and Math Smart Tutoring
*Attention! Homework Helpers and Math Smart Tutoring will begin on August 20th!*
Need help with your homework? Come on down to the library where our volunteers can assist you. Homework Helpers for kids K-5th grade are available Tuesdays and Wednesdays (4 p.m. - 6 p.m.), and Thursdays (5 p.m. - 7 p.m.). Homework Helpers assist children with Math, Reading, and Science homework.
Math Smart tutoring is also available, for students in grades 6th thru 12th, Tuesdays and Wednesdays (4 p.m. - 6 p.m.), and Thursdays (5 p.m. - 7 p.m.). All students should bring their homework assignments with them. This is a free program that is on first-come, first-served basis. No registration necessary!