Library Advocates
Most programs and many books and other resources at the Library are provided by funds donated by the Friends of the Library and the Library & Literacy Foundation of San Joaquin County. These community groups raise funds and advocate on behalf of the Library on legislative issues. They help promote the mission and services of the Library.
By joining the Friends of the Library in your local community you become part of the network of Library supporters. In addition to enjoying Friends sponsored events, you could get involved in book sales and other fundraising activities, talk to legislators about Library needs, or help to promote awareness of the many services provided at the Library.


Most Friends Groups operate out of each Library Branch, however, a few have their own online presence and we encourage you to visit them.
The Library & Literacy Foundation for San Joaquin County was incorporated in 1990 as a non-profit, 501c, tax-exempt organization that responds to the literacy needs of San Joaquin County. The Foundation has since expanded to support family and community literacy programs and assist with sustaining the Library's material budget.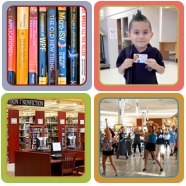 Friends of the Library Groups Sections on Branch Pages
For more information about Friends of the Library groups you can visit the the Library branch they serve and ask to speak to a Friends Member or you can call the general Library line at:
(209) 937-8221 from Stockton
(866) 805-READ (7323) from San Joaquin County