Mountain House Branch Library
| | | | | | | |
| --- | --- | --- | --- | --- | --- | --- |
| Mon | Tue | Wed | Thu | Fri | Sat | Sun |
| 10-8 | 10-8 | 1-8 | 10-8 | 10-5 | 10-5 | 12-5 |
About the Library

The Mountain House Branch Library offers a circulating collection of library materials in English, Spanish, Hindi, and Punjabi.

We offer computer workstations for general and Internet use, printing, and free Wi-Fi service. Newspapers are available for browsing and magazines are offered for checkout. The library also has a small reference collection, self-service checkout machines, a scanner, photocopier, and a typewriter.
Other Services available are exam proctoring and outgoing fax service.
Friends of the Mountain House Library
| | |
| --- | --- |
| | The Mountain House Friends of the Library is a non-profit organization dedicated to supplementing public funding to enhance the services and programs of the Mountain House Library. The Mountain House Friends of the Library has a hardworking Board of Directors to plan, organize, promote, and carry out our activities. They meet quarterly at the Mountain House Library and welcome the attendance and input of members at these meetings. |
For more information about becoming a member please visit their website.
Programs
Virtual programming is available, see our program calendar.
Check at the MH Library for weekly take-and-make crafts.
Volunteering
If you are a teen or adult, you may pick up a volunteer application at the reference desk to become a volunteer shelver, homework helper, and more. All volunteers must be 14 years of age and willing to commit to at least two hours per week, and three months of service.
After-Hours Bookdrop
On the parking lot/plaza side of the library there is an outside bookdrop for after-hours returns.
Library Study Rooms
The Mountain House Library has four study rooms for patrons to use. Three small study rooms that hold up to 6 people in each and one larger, conference sized study room that can be used by up to 12 people at a time. These rooms can be reserved in advance in person or by phone. Please find here the rules for reserving and using the study rooms.
Mountain House Library Study Room Rules
Patrons can only reserve the study rooms one time in advance. They can book it, then when they come to use that booking they can book it for a future day. Study rooms CANNOT be reserved by patrons on a weekly basis, e.g. every Tuesday at 1pm.
Library and MH CSD programs have priority when it comes to booking the rooms.
Patrons need their own library card or other form of i.d. to sign up for a study room. That person takes responsibility for the room and any items in it and
will be charged for any damage.
No more than 6 people can be in the smaller study rooms. No more than 12 people can be in the conference room.
Study rooms may be reserved for up to 2 hours at a time. Extensions may be made under certain circumstances. If an extension is given it's only for up to 2 more hours for a total 4 hour limit per day.
NO FOOD OR DRINKS allowed in the study rooms.
Patrons must check-in with library staff when they arrive for their study room reservation and need to let staff know when they are finished with the study rooms when they leave.
Displays
We are taking sign-ups for yourself, your class, your organization, etc. to highlight a display at the library.
We will display your items for up to four weeks in our locked display cases.
Sign up at the checkout desk.
Display: 2021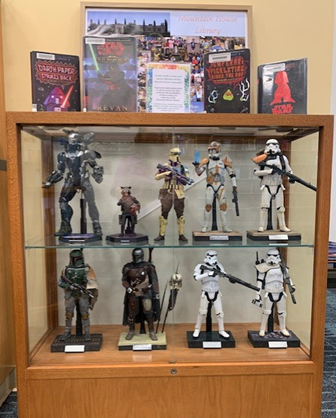 About Mountain House
Mountain House Community Services District web site: MHCSD