Book Sales
Support the Stockton-San Joaquin County Public Library by shopping at a Friends of the Library Booksale! By purchasing gently used books you are helping to raise funds to pay for library programming and new library materials. Prices vary by the type of book, but one thing is for certain, the price is always a bargain!
Booksales for City of Stockton Branch Libraries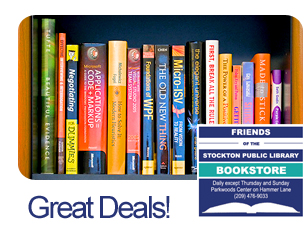 While there are not booksales inside Stockton library branches, there is a convenient one-stop-shop on Hammer Lane. Visit the Friends of the Stockton Library Bookstore for great deals on used books, magazines, audio books, records and more.
Stockton Friends of the Library Bookstore
1724 W. Hammer Lane, (209) 476-9033
Store Hours:
Monday: 10am-4pm
Tuesday: 10am-6pm
Wednesday, Friday and Saturday: 10am-4pm
Booksales for the San Joaquin County Libraries
Friends of the Library organizations around San Joaquin County operate used book sales inside of the branches they support. Types and selections of items for sale vary from branch to branch but may include hardcover and paperback books, audio cassettes, videos, and magazines. Sales run during branch open hours.
There may also be the occasional special event sales that reduce bargain prices even further. For instance, a "Book Bag Sale" at Ripon allows customers to fill a book bag for one set price! Check with each branch to learn more about their sales and specials.